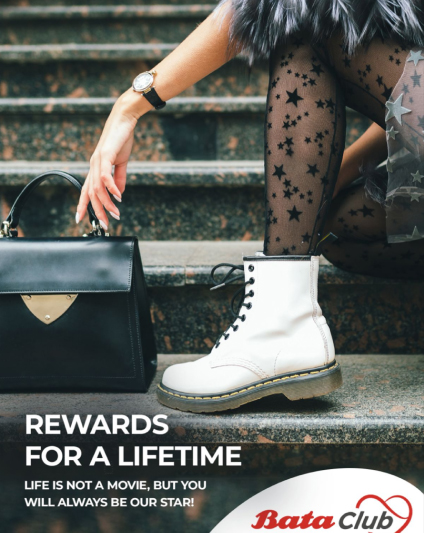 Step Into A World Of Rewards With BataClub
BataClub is a members-only club where you can earn points when you buy your favourite pair of shoes or accessories from Bata. You can redeem the collected points to win special member discounts and prices. You can redeem collected points to win special member discounts and prizes. The value of each Bata Club point is equivalent to 1 PKR.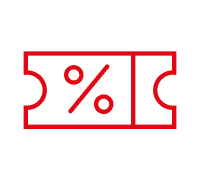 Get Milestone Rewards on Every Purchase
As a member of Bata Club, you will receive milestone reward on every purchase. After every odd Transaction you will receive a coupon worth 200 PKR and after even transactions you will receive 100 points worth 100PKR. You will be able to redeem these benefits on the subsequent transactions.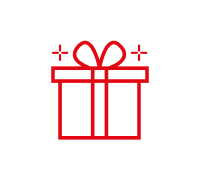 Birthday and Anniversary Coupons
As a member of Bata Club you will receive special coupon worth 300 PKR on your birthday and on your enrollment anniversary with bata. These vouchers are received 15 days before the event. These vouchers can only be redeemed on transactions above 1500PKR. You will be eligible for Birthday voucher only if you have completed your profile.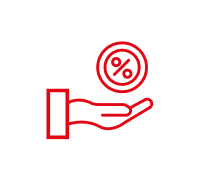 Spend More, Get More!
As a member of Bata Club, you will receive 1 point for every 100 PKR spent. Each point is worth 1 PKR. The more you will spend, the more you will save in future. You need to have at least 100 points, as redemption happens in the multiples of 100 only.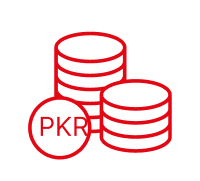 Enrollment and Profile Completion Benefits
You can become part of Bata Family by asking the store manager to add your contact number to program or by registering on website. Doing so will get you 50 points. Then registering online and completing your profile will get you 100 points more. You will have 150 points with out any effort.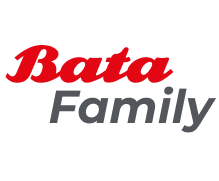 Feedback Points
As a Bata Club member you will receive a feedback form through SMS (if you have purchased on store) and through email (if you have purchased online) after every transaction. When you will fill the form you will receive 30 points. Doing so, you will be able to communicate your reservations regarding the shopping experience as well.
How to become a member online?
BataClub Subscription
1.&nbsp&nbspREGISTER
To enroll to Bata Club online, you need to register on our website using your name, mobile number and email address. You are strongly encouraged to opt into our marketing updates, to receive prompt updates on vouchers and other promotions.
2.&nbsp&nbspSMS CONFIRMATION
A confirmation SMS and email will be sent to your number indicating the completion of the registration process.
3.&nbsp&nbspCOMPLETE
You have to sign-in to your account to avail benefits and get visibility of the benefits.
Note: You can also register in store
join now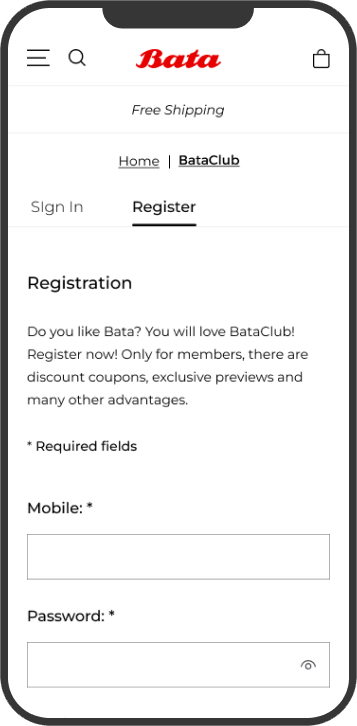 How to become a member through stores?
To enroll through stores, while making the purchase ask the store manager to add your contact number to program. In addition to it, provide your name and gender.
In the following visits to Bata stores provide your contact number to redeem benefits.
Bata Club's FAQ's
What are the benefits of joining the Bata Club?
By joining the Bata Club, you get access to many benefits, every step of the way. Welcome bonus, birthday coupon, enrolment anniversary and many more benefits. Also, thanks to your Bata Club membership, you do not need the receipt of your product if you want to exchange or return it. 
What information do I need to give you to join the Bata Club?
To join the Bata Club, you only need to give us your name and email address/mobile phone number. After registering, you get 50 bonus Loyalty Points just for registering & 100 bonus Loyalty Points if you choose to share with us additional information.
How do I use my Loyalty Points?
Loyalty Points can be used but redemption is allowed in a multiple of 100 points only. 1 Loyalty Point is equal to 1 PKR. Only available points are redeemable. It can be redeemed on stores upon providing contact numbers. It can be redeemed online if you sign in while placing order.
How do I collect Loyalty Points?
For every 100 PKR spent at Bata, you receive 1 Loyalty Point. You can also collect Loyalty Points by being an active member of the Bata Family: fill feedback form each time and shop more!
Can I use my rewards on Bata.com?
Yes. Your Bata Club membership is recognized in every Bata store in your country and online. Both your benefits and rewards are available on the www.bata.com.pk.
Do I have a membership card?
You do not need a membership card to be identified in Bata stores or on Bata.com.pk just use your mobile phone /email address number to log in at bata.com.pk.
How do I update my profile?
Sign in on www.bata.com.pk go to edit profile and answer all the questions.
How do I check my point status?
Sign in on www.bata.com.pk and check Point Status
How would I know my coupon code?
It is shared on SMS after the transaction.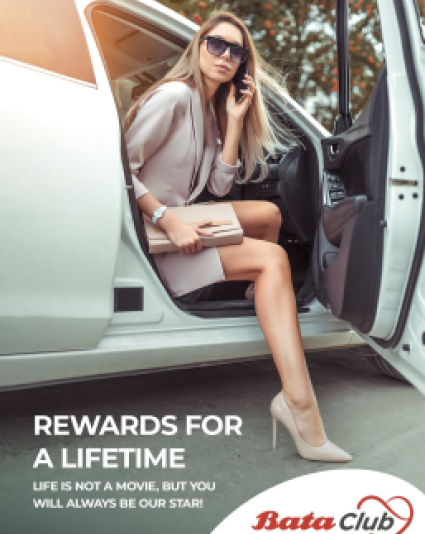 Your Rewards Journey starts here!
Spend more and get upgraded with more exclusive rewards and benefits
Join Now